When was the last time you changed your marketing or sales strategy?
The landscape of marketing has drastically changed. If you're seeing a decrease in results or aren't sure what to do next, then it's time to make a change.
The new landscape of marketing requires authenticity to create uniqueness. I help Massage Therapists, Wellness providers and Mission-Oriented, Service-Based businesses discover their new, most unique, way to do marketing and talk about what they do. When you say/do something unique, you build instant trust.
Your business has to be as unique as a hand dyed tie-dye shirt!
What if clients were sold on your service when they walked in the door?
What if each member of your sales team knew how to capitalize on who they are when talking to potential clients?
What if you could nail that new creative direction your marketing needs to go in?
What if you, as the business owner, knew exactly what to say to get potential clients interested in your service?
What if marketing and sales was easy, instead of sucking the joy out of your business?
Very few of us stand in and fully own our uniqueness, especially when it comes to our daily marketing activities. If your company is going stand out in a crowded marketplace, it's crucial that you find a more natural way of marketing your business.
It's even more crucial that anyone who is selling anything, trust in their natural, unique, way of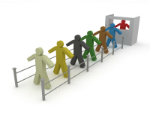 marketing and rely on it to inform their marketing decisions. Only then will marketing to-do lists be replaced by activities of passion and happen to get clients. Not only that! When someone trusts in themselves, others will trust trust them too and line up to work with them.
The first step to marketing and sales with ease is to build trust.


Trust-Building in Marketing Expert
Coaches' Marketing Source


<!-End Container->